Northwest Pelimannit®


Seattle's own Finnish Folkmusic Ensemble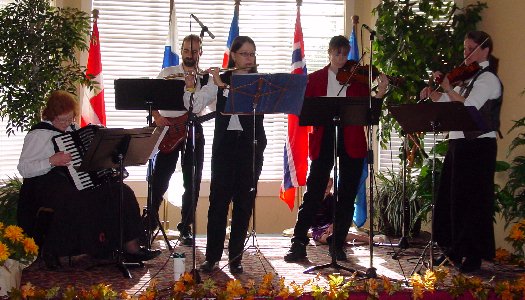 October 23, 2004: Gay, Mike, Kim, Shirley, and Beth playing at Gig Harbor Scan-Fest.
August 10, 2003

At our Taste of Edmonds gig, we were privileged to have Maarit Vaga sing with us. She is a Finnish native who was performer of the year in the Pacific Northwest last year. Kim, our flute player, and Gay, our accordion player, performed with Maarit last year in Minneapolis at Finn Fest. We're sad that she has moved to New York with her husband, Janne Erakare, our former bass player. We miss them both.
August 10, 2003

Northwest Pelimannit performed at the Taste of Edmonds Wine Garden Stage on August 10, 2003. We played our Finnish music and had two most interesting comments:
1) A woman came and said that she lived across the street, heard us, and had to find out what kind of music we were playing. She loved it.
2) A second woman, a Finnish native, heard us play Säkkijärven Polkka and told us she hadn't heard it since she left Finland and wanted to know when she could hear us play again.
We enjoyed playing for friends, neighbors and new people.
June 7, 2003

Northwest Pelimannit played for the Kruunuhäät, the traditional Finnish Crown Wedding performed at the Scandinavian Center at Pacific Lutheran University

From left to right, Kim Whittle on Flute, Shirley Makela on violin, Gay Nixon on accordion and Penny Curtis, guest of NWP, on accordion.
June 14, 2003

Northwest Pelimannit played a concert and a dance at FAHA, the Finnish American Home Association in Sonoma, CA.

Pictured from left to right are Janne Erakare, bass, Gay Nixon, accordion, Shirley Makela, violin, Kim Whittle, flute.
Who, or what, is Northwest Pelimannit?
We are fanatics about Finnish music – not just folk music & music for folk dancing, but also popular dance music as well. We play for the joy of it. We were all "bitten by the bug" years ago and have never recovered. We are seriously dedicated to the art and craft of Finnish folk music.




Left to right:


Shirley Makela on violin,
Gay Nixon on accordion,
Beth Matheny on violin.




You may have seen us around the Seattle area for years; we are active members of the Finnish American community here in Seattle and have been involved with many different Finnish organizations. We have been playing music together since 1987. We've played for such events as the FFSC Annual Meeting, Independence Day Dinners, Kalevala, and at the Finnish booth at WorldFest and for Finnish folkdance groups at Seattle FolkLife. We took a short break from playing in 1994 after we played for one of Seattle's folkdance groups on a tour of three folk festivals in Europe. It was a strenuous year with practices 3-4 times a week capped off with three weeks of festivals. However, within 6 months we were back together again and re-assessing and re-affirming our devotion to the Finnish music.


Northwest Pelimannit® is available for dances, parties, or music for special occasions. We play waltzes, jenkkas, humppas, hambos, polkkas, tangos & marzurkkas. Call Gay at (425) 743-5450 for information on rates and times available for engagements. Or send e-mail to: Shirley Makela or Gay Nixon. Kiitos!



Copyright © 1996-2005, Northwest Pelimannit®


NWP is hosted by Finns Northwest