Northwest Pelimannit®


Seattle's own Finnish Folkmusic Ensemble


Gay Nixon is Pelimanni magazine's January 2004 Artist of the Month!

Who, or what, is Northwest Pelimannit?
We are fanatics about Finnish music – not just folk music & music for folk dancing, but also popular dance music as well. We play for the joy of it. We were all "bitten by the bug" years ago and have never recovered. We are seriously dedicated to the art and craft of Finnish folk music.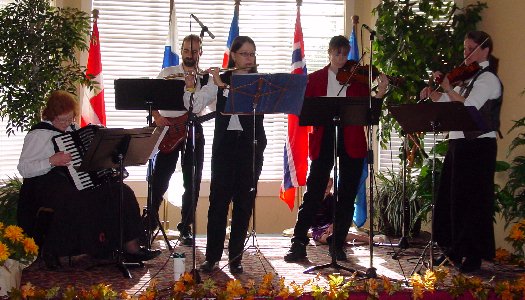 Gay on accordion,
Mike on bass guitar,
Kim on flute, and
Shirley &
Beth on violin.
You may have seen us around the Seattle area for years; we are active members of the Finnish American community here in Seattle and have been involved with many different Finnish organizations. We have been playing music together since 1987. We've played for such events as the FFSC Annual Meeting, Independence Day Dinners, Kalevala, and at the Finnish booth at WorldFest and for Finnish folkdance groups at Seattle FolkLife. We took a short break from playing in 1994 after we played for one of Seattle's folkdance groups on a tour of three folk festivals in Europe. It was a strenuous year with practices 3-4 times a week capped off with three weeks of festivals. However, within 6 months we were back together again and re-assessing and re-affirming our devotion to the Finnish music.


Northwest Pelimannit® is available for dances, parties, or music for special occasions. We play waltzes, jenkkas, humppas, hambos, polkkas, tangos & marzurkkas. Call Gay at (425) 743-5450 for information on rates and times available for engagements. Or send e-mail to: Shirley Makela or Gay Nixon. Kiitos!


Copyright © 1996-2005, Northwest Pelimannit®


NWP is hosted by Finns Northwest